Agent 00' Sheldon is the first half of the 9th episode of season 3 of My Life as a Teenage Robot.
Plot
After Sheldon is rejected from joining the baseball team by the coach he is recruited into a secret agent. When recruited he stumbles onto a supposed plot to destroy every last robot in Tremorton.
Transcript
Trivia
This episode reference to James Bond Franchise is:

Agent 00 is likeness James Bond 007

The Sheldon watch resemble to Darth Vader from Star Wars.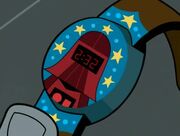 Reference
Men In Black - All Sheldon identifying marks are erased by secret agent agency.
Gallery
Coming soon
Ad blocker interference detected!
Wikia is a free-to-use site that makes money from advertising. We have a modified experience for viewers using ad blockers

Wikia is not accessible if you've made further modifications. Remove the custom ad blocker rule(s) and the page will load as expected.