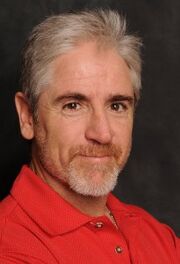 Carlos Alazraqui is an actor and voice actor best known for playing Deputy James Garcia in Reno 911! but has also voices Rocko from Rocko's Modern Life, Nestor from Happy Feet, Mr. Crocker and other voices from The Fairly Oddparents, Additional Voices in Toy Story 3, Winslow from CatDog, and Lazlo from Camp Lazlo. He also voiced Ferris Wheel Enthusiast in My Life as a Teenage Robot.
He also voices Crash Bandicoot in the franchise at the same name and Spyro in the first Spyro game.
Ad blocker interference detected!
Wikia is a free-to-use site that makes money from advertising. We have a modified experience for viewers using ad blockers

Wikia is not accessible if you've made further modifications. Remove the custom ad blocker rule(s) and the page will load as expected.