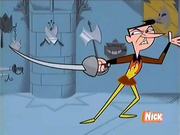 Ivan is a rich noble who lives in a large castle. When Brad, Sheldon, Tuck, and the disembodied head of Jenny were searching for the other parts of Jenny's body, they found one of the her parts in Ivan's castle. Ivan sent his guards after the gang and they were chased out of the castle.
He only appeared in the episode Around the World in Eighty Pieces.
Ad blocker interference detected!
Wikia is a free-to-use site that makes money from advertising. We have a modified experience for viewers using ad blockers

Wikia is not accessible if you've made further modifications. Remove the custom ad blocker rule(s) and the page will load as expected.