The Lonely Hearts Club Gang are one of the minor antagonists in My Life as a Teenage Robot.
They are a group of 5 heart-broken gangsters. They appeared in "Attack of the 5½ Ft. Geek". They take pity on anyone whose heart was crushed, as they offered Sheldon a place in their gang after they witness Jenny break his heart.
Trivia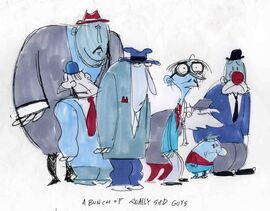 They're named after a famous Beatles song of the same name.
One of the gangsters has a broken noose around his neck; it is likely that he tried to kill himself.
As shown in the original sketch on the right, at least two of the members were scrapped.