About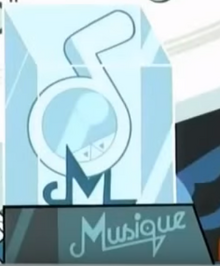 The
Musique
was an item that made its only appearance in the episode "
Girl of Steal
". It functions as many things, including, but not limited to, a music player, a mood reader, and a nose-hair trimmer.
Trivia
All the functions of the Musique are: music player, camera, phone, fan, fax machine, metal polisher, shower reminders, can perform base-5 trigonometry, can make spinach dip, mood reader, radio, can (could have) cured dandruff and cavities, can make a milkshake, tax filer, and a nose-hair trimmer.
The Musique is a "parody" of the iPod.
Ad blocker interference detected!
Wikia is a free-to-use site that makes money from advertising. We have a modified experience for viewers using ad blockers

Wikia is not accessible if you've made further modifications. Remove the custom ad blocker rule(s) and the page will load as expected.