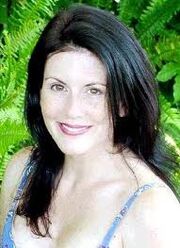 Sandra "Sandy" Fox (born July 13, 1963) is an American voice actress who has had numerous roles in various animated cartoon, anime and video games. Together with her husband, fellow voice actor and Love Planet Records co-founder, Lex Lang, they perform in a musical group called Butterfly and they are creators of "H2Om Water with Intention". She is a member of Social and Environmental Entrepreneurs, founder of The Love Planet Foundation and high-pitched voice and is often cast as very young girls.
She is the voice of Melody Locus.
Ad blocker interference detected!
Wikia is a free-to-use site that makes money from advertising. We have a modified experience for viewers using ad blockers

Wikia is not accessible if you've made further modifications. Remove the custom ad blocker rule(s) and the page will load as expected.