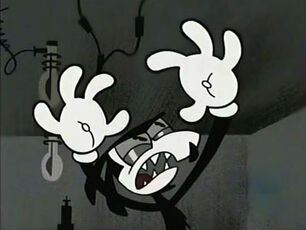 Vladimir
(formerly known as
Mr. Scruffles
) was
Nora Wakeman
's former lab-rat and leader in
a gang of rats
who debuted in "
Pest Control
." Tired of being treated like a "pet" and being used as an experimental test subject, he exacted revenge on Nora by stealing
Jenny
's body. He was defeated when the body was knocked into a pool, to which his minions "abandoned ship" to avoid the water and electrocution. He was also the leader of
The Legion of Evil
. His voice was provided by
Kevin Michael Richardson
.
Trivia
Vladimir is the first antagonist of the entire series.
Vladimir's design is reminiscent of the early incarnations of Mickey Mouse (Disney mascot), as well as Mickey's nemesis Mortimer Mouse.
The name, personality, and plot of the story are a reference the the Russian Revolution in 1917, and Vladimir Lenin (the exact name of Mr. Scruffles), the famous revolutionary leader - Vladimir says things like "Comrades" (A commonly known Russian term for "friends") and "we have suffered much under the cruelty of Dr. Wakeman" (the exact same scenario the Russians faced under the leadership of Nicholas II). Vladmir's personality is commanding, like the real Vladimir, and the plot of the mice (Russians) getting hold of XJ-9's body (weaponry), but were easily infuriated by Brad, Tuck, Jenny, and Mrs. Wakeman (Americans), and because of the mice's instincts (cowardice in the face of fear) leading Vladmir to fail and the mice getting caught and taken away by the Pest Control service (collapse of the U.S.S.R).